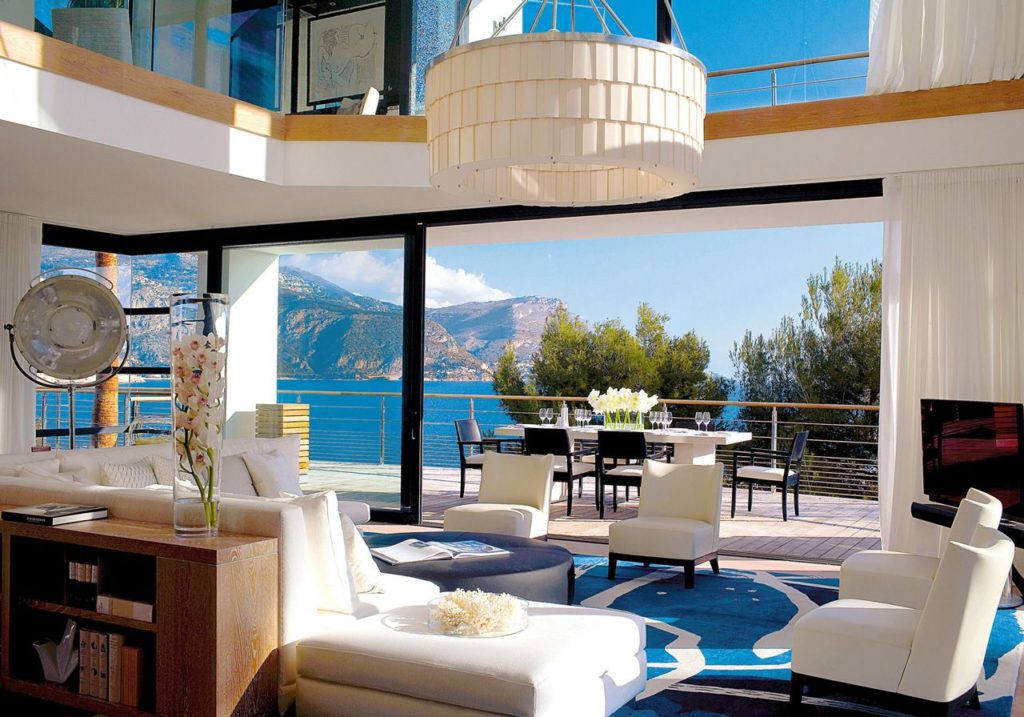 St Jean Cap Ferrat is an opulent commune that caters to international billionaires and refined travelers alike. Located on a peninsula, next to Beaulieu-sur-Mer in Southern France, noted to be the apex of the French Riviera's "golden triangle", St Jean Cap Ferrat's warm climate and ravishing seascapes makes it a perfect location for a holiday. Picture yourself on the terrace of a well-appointed villa with azure skies above you and cerulean Blue Ocean beneath you. Breathe in the rich smells of the ocean as you gaze upon a pristine harbor dotted with the bright white of lavish yachts. Dine at five star restaurants by night, swim in warm Mediterranean waters by day.
Most of the Cap Ferrat's villas are within walking distance of the marina and world renown restaurants where choosy guests dine on exotic dishes like skate with capers or estouffade de sanglier. Visitors spend their days relaxing on the beach or touring the beautiful bay by yacht. Every August St Jean Cap Ferrat hosts an opera festival, bringing in the elite from all over the world.
Visitors have a variety of ways to while away the time. They may visit the zoological park that houses over three hundred different animals that live in a semi-free environment, or wander the stretch of the pristine port. There is also the Villa Ile de France, the mansion built and decorated by the Baroness Béatrice Ephrussi de Rothschild, which is open to the public and is considered one of the most beautiful spaces in the world, housing more than 5000 works of art and seven gardens inspired by her travels around the world. Each garden contains a different "theme", from Japanese to Florentine, these gorgeous and manicured representations include palm tree lined walk ways and tropical fragrances sure to take your breath away.
Cap Ferrat contains three public beaches, a port, numerous restaurants, parks, gardens, museums, and more. These villas often have private beaches and marina access, so that visitors to the region are often treated with more than they ever could have expected. When you stay at St Jean you are only 10 km from both Monaco and Nice, making day excursions easy and enjoyable.
If you like to live the life of the rich and famous and have the money to spare then a 12 bedroom chateau is the ideal holiday destination for you and your family. You should also not forget that Cap Ferrat is the priciest stretch of real estate in France.
Exotic villas can be bought or rented in St Jean through upscale estate agents that cater to the discerning clientele. Cap Ferrat's Real Estate is usually marketed through agents who are used to dealing with multi-national, multi-lingual clientele. There are online portals available today that can provide detailed descriptions of luxury villas on their website, and if none of the villas, do not meet your needs, then their skilled real estate agents will work hard to find you just that chateau you're looking for.